On June 20, 2015 some of us at Operation Power Up went to check out the
Nintendo Access: Super Mario Maker
event. We also went to see
The Legend of Zelda: Symphony of the Goddesses Master Quest
afterwards. We came to enjoy the events (and promote ourselves with our shamelessness.) Check out our nice collection of pictures from both events!
Super Mario Maker Mario and Luigi front and center!
It's always Year of Luigi for us.
Dark Link and Mario join in trying out The Legend of Zelda; Tri Force Heroes!
Looks like somebody went to e3 and got a totally rad shirt!
Blue Link isn't going to survival in or out the game.
Waiting in line to try out Super Mario Maker!
Good luck!
Wait...that's not Super Mario Maker...
Cosplayers at the theatre.
Blue Link cheering in the front!
#ZeldaATX
Look at the crowd!
Look at the view!
More cosplayers!
The most feared one in this picture is the Cucco.
Overall we had a fun weekend! We promoted the memory of Nintendo Power and met some fellow gamers!
For those new to Operation: Power Up, we're a group of dedicated fans persuading Nintendo of America to bring back Nintendo Power as a digital publication and/or a website. With fan publications such as
Pure Nintendo
,
Nintendo Force
, there's still a market for a dedicated Nintendo publication. Our mission is simple: we want to get back the Power!
See you next mission!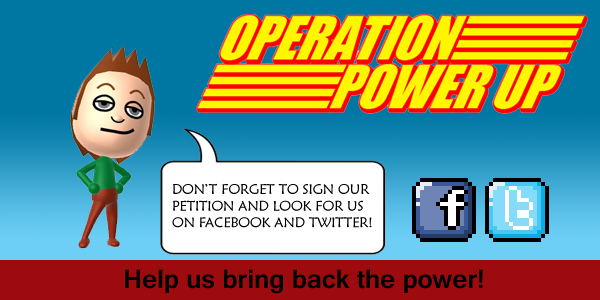 Our Nintendo Network ID: OperationPowerUp
Our Miiverse page:
Here.
Our Facebook group:
Here.
Our Twitter:
Here.
Our Instagram:
Here.
Our petition:
Here.